Exness account types
Brokerage company Exness is the largest stock representative of the world. The international website is popular in many countries. Sign up Exness is a straightforward and fast procedure, which takes five minutes. But later, each client must choose his deposit. On Exness trading account are very important, because each account has different conditions of activity. There are various spreads, commissions, leverage and even mandatory margin calls. 

This article will help beginners to familiarize themselves with such accounts from Exness: 
Standard;
Raw Spread;
Zero.
Each deposit has several additional offers. You will learn all about them in this article.
Exness Standard account
The Standard account is the best solution for beginners who are not ready to make a large minimum deposit and do not know how to make large deals. We want to remind you that the type of agreement can be changed at any time, so it is better to invest money in the standard version of the account first.
The trader gets good basic conditions for work. The activity is conducted with such characteristics: 
The minimum deposit is $1;
Leverage is 1:2000;
Spread from 0.3;
There is no commission for the trading volume.
Of course, this is not a professional account, but still, the conditions are much more favourable than in pro-deposits of other brokers.
Exness Cent account bonus is an opportunity to open an additional account. The conditions are very similar, but trading becomes a little more convenient. The user gets access to more instruments, but still does not overpay the commission and can make cheap trades. The Exness Cent account is an ideal choice for a trader with little experience.
Raw Spread account
A more advantageous offer, aimed at Forex Market professionals, is called Raw Spread. The conditions of the account are fundamentally different from the standard one. First of all, it is expressed by the minimum deposit and spreads:
The minimum deposit is 200 USD;
Leverage is 1:2000;
Spread from 0.0;
Commission for one lot up to 3.5 USD.
What are the differences from the standard? For starters, the spread is minimal. A user with this type of account will never overpay commission for trading, depositing or in general the activities of the website. The conditions are not maximum, so professionals recommend choosing Raw Spread in case of the client trades only on Forex. This deposit will be the most economical and financially beneficial.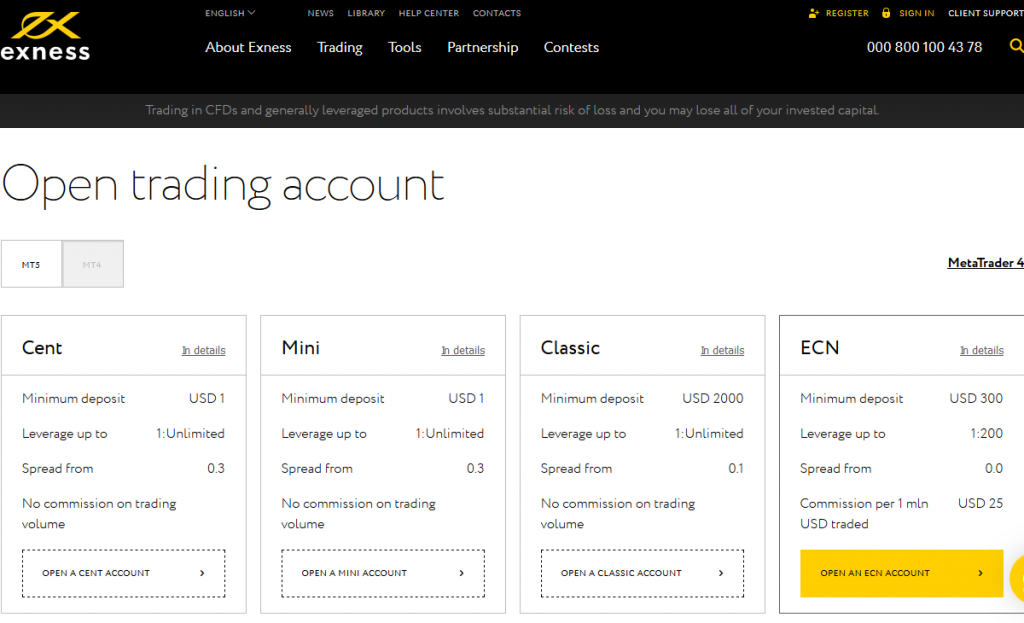 Pro account Zero
Real pros of their business always choose the best pro account Zero. It's worth its money because it suits the client who plays in high positions. Even if a deal is made for hundreds of thousands of dollars, the user does not overpay commission, gets every margin call from the system and can use the best analytical tools.
The characteristics of the Pro Zero account are as follows: 
The minimum deposit is $200;
Leverage is 1:2000;
Spread from 0.0;
Commission for one lot from 3.5$.
Users who make international professional transactions will feel the best with this deposit. For weaker trading, it is better to choose one of two other accounts.
Exness account features
In addition to the standard features, Exness stands out among other brokers for its fixed transaction price and many technical features.
A good example is the following few points:
Free VPS server for Expert Advisors;
Support service in 24/7 mode;
Internal strong analytics;
Automatic withdrawal with no commission;
Monitoring of external accounts.